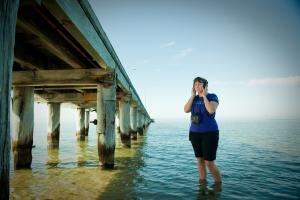 The bottlenose dolphins of Port Phillip Bay have a new champion for their cause in Victoria University researcher Nicole Filby.
The PhD student is studying the behavior and distribution of the vulnerable dolphins, as well as their interaction with the dolphin-swim-tourism industry.
She says a better understanding of the species and its ecosystem is needed for more effective management and protection.
The population of bottlenose dolphins in Port Phillip Bay is considered vulnerable due to its small size, genetic distinctiveness and restricted home range. But the dolphins also endure high levels of human activity and a non-compliant commercial dolphin-swim industry.
Nicole hopes her research on the dolphins' behaviour and habitat use will ensure they remain protected, enabling future generations to view and interact with them.
"My research aims to raise awareness with the general population about ways they can help conserve the environment and increase their knowledge of our marine environment," she says.
As part of her research Nicole is also looking at the behaviour of a colony of Australian Fur Seals living on Chinaman's Hat in Port Phillip Bay. She is enthusiastic about the time her research allows her to spend out on the water.
"Each day out in the field brings something different, whether it is an encounter with a little blue penguin that pops up next to the research boat or witnessing a pod of whales being harassed by sharks," she says.
Nicole studied marine biology as part of her undergraduate studies and immediately decided it was where her future career would lie.
"I am passionate about dedicating my future career to research that focuses on the conservation of Australian marine mammals, as well as continuing to learn more about what their behavior and acoustic communications can tell us," she says.