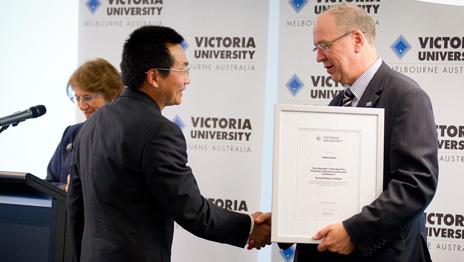 Applications open on Monday 23 July for the Research Degree Graduate awards. Nominations close 5 pm (AEST), Friday 24 August, 2012.
These awards recognise and reward the contributions of research degree graduates to the quality of research and research training at Victoria University.
Up to three Citations for Research Degree Graduate will be allocated and out of these, one Peak Award will be awarded. The Peak Award recipient will receive $1,000 and a certificate.
Eligibility
For the purposes of these Citations and Awards, "research" is interpreted broadly and includes projects that have attracted internal and/or external funding, research that has led to publication and/or conference proceedings, and/or research which has resulted in works or performances.
To be eligible you must:
Be a Research Degree Student or Recent Research Degree Graduate of Victoria University
Have received your examiners' reports between 1 June 2011 and 31 May 2012
Application
To apply for the Research Degree Graduate awards, you will need to:
Complete an online Nomination Form
If you are unable to complete the online form, please email

[email protected]

for a Word version
Attach your supervisor's comments
Include your curriculum vitae
Request the Office for Postgraduate Research to provide your full examiners' reports and a statement of time to completion.
Full details on the requirements of each section is outlined in the guidelines
Nominations close 5 pm (AEST), Friday 24 August, 2012.
The awards will be presented at the October Doctoral Graduations Celebration.
To make a nomination and for more information download the guidelines and nomination form.