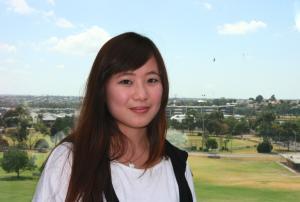 Eh Tha Pwee Paw Win arrived in Melbourne six years ago with not enough English to even order a meal, now she's finished VCE and is about to study bio-medical science at Victoria University.
The 20-year-old Werribee girl spent the first 15 years of her life in a refugee camp on the Thai border, where many from her Karen ethnic minority had fled to escape persecution in Burma.
Eventually Ms Win was accepted into Australia, where she started English classes then year 9.
"The start was so difficult because I had very basic English "" just a few phrases "" and had to try so hard to get through all the school work," she says.
But try hard she did and last year completed year 12 at Galvin Park Secondary College on her second attempt. She says the free exam-preparation lectures she attended at Victoria University were a big help.
She says while exams were intense now is no time to take her foot off the pedal: since finishing high school Ms Win has continued her daily routine of studying vocabulary and reading the newspaper - underlining and looking up words she doesn't know to learn them.
"Learning the new vocabulary each day helps a lot, but I hope I know enough for university because school was already very hard," she says.
One thing that will make it a little easier is a $5,000 package from Victoria University of practical assistance to help her adjust to university life.
As one of five winners of the Get Set to Study competition, Ms Win receives a laptop, printer and bicycle as well as food, transport and bookshop vouchers.
"I was very excited when they told me I had won because I really didn't expect it," she says. "It will help me a lot to start university because it'll be a few things less to worry about when there is already so much to think about."
She says studying biology and how the body works has been a dream of hers since she was growing up in that refugee camp.
"I want to be part of something that helps save people's lives," she says. "I just really hope I can succeed at university so I am able to do that."
Ms Win says she expects the course to be difficult, but overcoming difficulty is something she's done before and she is not the type to let opportunity pass her by.
"As a refugee, I spent many years confined in a small world," she says. "For me Victoria University is a place that will expand my horizon."
A new competition next month will award another five prize packs worth $1,000 to students starting an Apprenticeship and Traineeship course at Victoria University in 2012.