Thursday 5 September 2013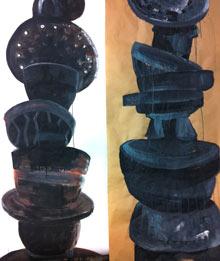 What could Queen Elizabeth I and brown paper bags found on Melbourne's local beaches possibly have in common?
These are two of the subjects of an art exhibition – named [email protected] – by four graduates of Victoria University's Diploma of Art being held later this month at the new D11 gallery in Melbourne's Docklands.
Alumnus Carolyn Cardinet's work is created from what she calls "everyday junk polluting our oceans and beaches" that is washed up on Melbourne's inner city beaches.
One of her latest works is an installation of brown paper bags found in beach recycle bins on which she has painted black plastic objects found on the stretch of sand between St Kilda and Albert Park.
Her colleague Janita Ryan is exhibiting small portraits of actors who played Queen Elizabeth I in movies, while fellow alumni Petra Kleinherne and Joanna Weir will have some of their current abstract paintings on display.
The four artists graduated from VU more than a decade ago. "It was such a good course and we all loved it so much that we went on to create the VU Visual Arts Alumni group," says Ms Cardinet, who was a sessional teacher at VU until last year.
Named after the last tram stop on the line to the Docklands, D11 is part of Renew Australia's pilot program to reactivate empty spaces as creative spaces around the Docklands' Waterfront City Piazza.
The artist-led D11 gallery features exhibitions curated on a two or three weekly basis. The artists are also on hand to discuss their work and working processes with visitors.
"Artists aren't given this kind of opportunity to show their work very often," says Ms Cardinet. "It's a fantastic opportunity."
Because it's not a commercial gallery she says there is not same weight on their shoulders. "A commercial gallery takes 50 per cent of sales, plus you have to contribute to costs such as food and drink on opening night."
When: Saturday 14 September to Saturday 28 September
Time: Thursday to Sunday, 12 noon – 5pm
Where: Waterfront City Piazza, off Docklands Drive, Docklands (No. 86 tram; stop D11)
The public is welcome to attend the opening night: Saturday 14 September, 5–8pm.
For more information contact Carolyn Cardinet on 0409 307 879 or email [email protected]