Wednesday 20 November 2013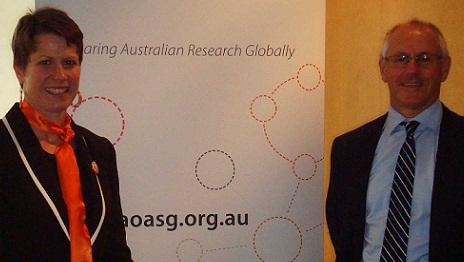 At the recent forum Open Access @ VU: Enhancing research visibility hosted by Victoria University Library, Dr Danny Kingsley assured researchers that they can still publish in their preferred journal and yet make their work accessible via open access.
Dr Kingsley, Executive Officer from the Australian Open Access Support Group (AOASG), revisited the myth that researchers must choose between prestige and open access by stating that access and quality are separate issues. Her advice is to "publish as normal and place a copy in a repository". If there are concerns about copyright, she advised researchers to check the SHERPA/RoMEO website which lists the publishers allowing use of their papers in repositories.
Dr Kingsley also encouraged researchers to consider publishing in high ranking open access journals such as from Public Library of Science (PLOS) and BioMed Central. Addressing concerns about open access journals not being peer reviewed, she explained how authors can protect themselves by asking "some basic questions – Is this a journal you have read before or cited from? Do you know the editor or other authors in the journal? Is the journal listed in the Directory of Open Access Journals?".
Another myth relates to open access journals charging publication fees. Dr Kingsley said that none of the (over 130) Australian open access journals charge an article processing fee and neither does the majority of open access journals worldwide.
Dr Kingsley also refuted the argument that researchers should consider open access for their 'second rate work but not top work'. She said that studies show that open access generally has a positive effect on citations, and that high quality open access articles are cited more than lower quality open access articles.
The slides from Dr Kingsley's PowerPoint presentation are available to read online or download.