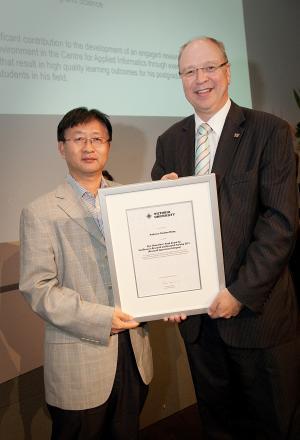 Professor Yanchun Zhang has driven the development of an engaged, personalised and career-oriented postgraduate research environment at Victoria University's Centre for Applied Informatics.
As Centre director he brings international expertise and over 20 years' research experience in database and information systems and web services. Last night he received the Vice-Chancellor's Peak Award for Excellence in Research and Research Training.
In the past decade Professor Zhang has supervised 17 students to completion with a focus on developing their independence in a supportive framework, providing compassionate rigor and tailored research training plans for each student.
Through Professor Zhang's guidance and support, all his PhD candidates publish in high level international journals and conferences before they submit their thesis.
He pays great attention to understanding each student's academic strengths and career goals and helps them incorporate this into their research topic and research plan.
Three quarters of his PhD graduates have become university professors, associate professors, lecturers and research fellows, while others became an ANZ bank manager, software developer and researcher in Victoria University's human resource department.
Professor Zhang has published over 200 refereed research papers, founded and edits both the World Wide Web journal and the Journal on Health Information Science & Systems, chairs the Web Information Systems Engineering Society and was a member of the Australian Research Council College of Experts from 2008 to 2010. For his world-class research he was recently recognised in China's prestigious One Thousand Talents Program.