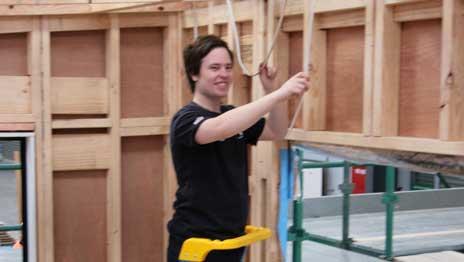 Innovative workplace learning opportunities at Victoria University's Trade College are giving electrical apprentices a powerful start to their careers.
The challenge facing electrical apprentices is that to become a qualified electrician they must gain skills often unattainable in their current workplace. Working exclusively in one electrical industry – domestic, commercial or industrial – usually means there is limited opportunity for cross-skilling across the three specialisations.
To overcome this, the Trade College's electrical apprentice training includes working on large 'real-life' projects. Apprentices gain the practical work experience on projects not accessible through their employer.
This not only gives them the extra skills they need to gain their trade certificate, but enhances their employment options after graduating.
Second-year electrical apprentice Luke Twentyman is employed at the North Laverton site of NHP Electrical Engineering Products.
"At work I have my own workstation and build electrical circuits," says Luke. "But to get fully qualified and earn more money, I need to be able to do all types of electrical work. The VU practical training gives me the experience I can't get at work."
Twentyman and his classmates have been applying their domestic electrical skills to portable houses produced by VU's carpentry apprentices. Under the guidance of teacher Stan Borysiewicz, the electrical apprentices install the internal wiring and data cabling for the houses, which are snapped up by buyers across the state.
"A number of our electrical apprentices are working in large industrial and manufacturing industries," says Stan. "We work closely with their employers to ensure they gain the domestic electrical experience necessary to complete their apprenticeships. Working on real projects means higher quality, complex training that develops skilled job-ready graduates."
VU's Trades College also offers flexible learning options and new assessment practices.
More information on trades courses