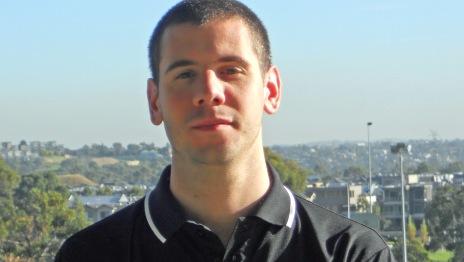 A PhD student's first academic paper has been a massive hit with peers.
School of Sport and Exercise Science student Fabio Serpiello was recently informed by the highly renowned European Journal of Applied Physiology that his article was in the top 20 downloaded articles last year.
"I was so proud to have my first PhD article published in such a quality journal but to then find out that it's been downloaded nearly 900 times in a year was fantastic news," he said.
His paper 'Performance and physiological responses to repeated-sprint exercise: a novel multiple-set approach' shed new light on how repeated sprint training worked to build sprint ability and acceleration.
It's an impressive achievement for Mr Serpiello who arrived here in 2008 as an international student from Italy and has since joined as a staff member in the School of Sport and Exercise Science.
"To me it really shows the importance of PhD students publishing while studying and aiming at the best possible publications as their targets," he said.
Mr Serpiello is currently researching the effects of indoor football for the prevention of diabetes in his PhD supervised by Professor Michael McKenna.