Wednesday 19 October 2016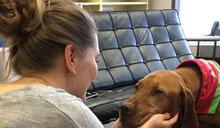 After months of careful planning, VU librarian Garry Potter and the Delta Society have worked collaboratively to help stressed students find a way to clear their heads and take a break – and the response has been overwhelming.
For three days, across three library campuses (Flinders Street, St Albans and Footscray Park), Delta Society therapy dogs have been lowering student stress levels during end of year exam time. Each visit has been a huge success, with students patiently waiting for a chance to pat Murphy, Juno, Maggie or Chev the border collie.
Students and staff can meet George and Murphy today (Wednesday 19 October) at Footscray Park campus library, between 11.30am – 1pm.
Talking to ABC News24, Potter said: "We wanted to give the students an opportunity to take their mind off studying for five or 10 minutes and give them a break, because it can be a really stressful time."
Paws for Pressure isn't just the hounds; it includes a number of highly-trained handlers who ensure that both the dogs and the students get the most out of the experience. While the dogs are used to visiting aged care facilities and hospitals, this is the first time the canines have come to a Victorian University, but it's unlikely to be the last.