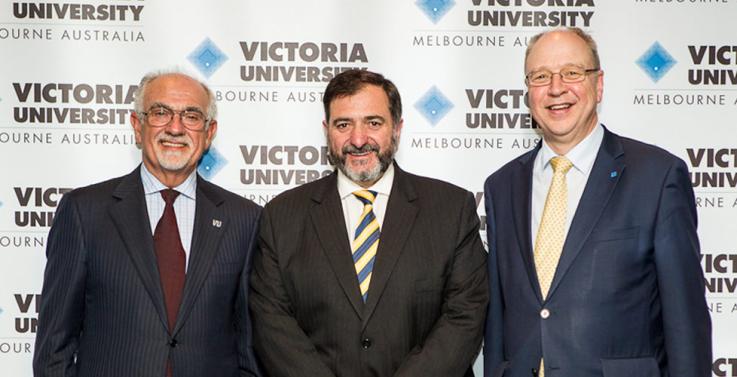 On Wednesday 9 October, the 2013 Alumni Awards honoured the success of a distinguished group of graduates and current students at the annual Alumni Awards Presentation.
Now in its third year, our Alumni Awards program has so far recognised the outstanding achievements of leading Alumni from across our global community.
2013 award recipients
Distinguished Alumni Award: Paul Constantinou
Paul is Chairman and CEO of Quest Serviced Apartments and won the highest profile award - the Distinguished Alumni Award. He has more than 35 years experience and is one of Australia's true hospitality professionals. He studied a Diploma of Catering and Hotel Management at Footscray Institute (now Victoria University). In 1988 he founded Quest which has become Australia's largest and most successful serviced apartment group.
Paul has given up much of his time to mentor young people and has provided work placements for VU hospitality students. He has received many awards in his career that acknowledge his dedication and integrity including Ernst and Young's Australian Entrepreneur of the Year in 2009 and HM Magazine Australasian Hotelier of the Year in 2012.
Outstanding Alumni Service Award: Seah Kim Swee
Kim Swee has a Master of Business in Professional Accounting from Victoria University and has demonstrated a strong commitment to VU alumni and the broader Singapore community.
In addition to being a proud Singaporean he is also a proud Australian graduate who celebrates this connection. In 1997 Kim Swee was instrumental in developing the Singapore Chapter of the VU Alumni. He dedicates enormous energy to raising the University's profile in Singapore.
He received the Australian Government's Distinguished Alumni Service Award for his services to the broader Australian Alumni community, and VU recognised him as one of its 90 Legends during the University's 90th anniversary celebrations.
Outstanding Alumni Service Award: Campbell Rose
Campbell has made outstanding contributions as an elite sportsman and a sports administrator. He represented Australia in yachting at the 1988 Seoul Olympics, after which he combined his sporting success with his entrepreneurial skills, leading many organisations including the Victorian Yachting Council and the Melbourne Major Events Company.
Campbell joined the Western Bulldogs AFL club as its Chief Executive in 2002 where he managed a successful major turnaround the Bulldogs that included the redevelopment of Whitten Oval.
Under his leadership the Bulldogs formalised a partnership with Victoria University, reflecting Campbell's strong commitment to education and to the use of sport to address economic and social disadvantage. He received an Honorary Doctorate from VU in 2005 for his services to sport, sports administration and the community.
Young Achiever Alumni Award: Stacey Keating
Well known women's golfer Stacey Keating has completed a Bachelor of Applied Science (Sport Science in Golf) at Victoria University. When Ballarat born Stacey was introduced to golf at age 12, she showed immediate promise, scoring her first hole-in-one and soon reduced her handicap to 8.
Stacey moved to Melbourne at 18 to focus on her game and enrol at Victoria University. She was named VU's Female Athlete of the Year in 2006 and 2010 for her many outstanding sporting achievements. In 2006, she won her first nationally ranked tournament. Since turning professional in 2010, Stacey has won the French Open and the Spanish Open in 2012, and was one of only five Australians to contest the 2013 US Women's Open.
Outstanding Student Alumni Award: Brittany Tolson
Brittany Tolson is studying a Bachelor of Laws at Victoria University. Brittany has excelled in her academic and professional pursuits since her first year at Victoria Law School (VLS).
Her academic excellence was rewarded in 2012 when she was inducted into the Golden Key International Honour Society. The honour recognises the top 15 per cent of university students worldwide.
As a legal assistant to a distinguished Melbourne barrister, Brittany has effectively and consistently raised the profile of the VLS among barristers at the Victorian Bar. She also participates in the VLS's mentoring program and is strongly involved in the Law Students' Society. Her passion for community service is demonstrated at Community Support Frankston and Peninsula Community Centre.
Outstanding Student Alumni Award: Jacinta Carroll
Jacinta Carroll is studying a Bachelor of Exercise Science and Human Movement. In addition to being an outstanding student, Jacinta is the current under 21 world champion and among the world's top water-skiers.
Since joining the sport of water-skiing at age 10 and setting a goal to become a world champion at age 14, Jacinta has been determined to be the best in all she does. She was named Victoria University's 2012 Female Athlete of the Year for her sporting achievements, VU's highest sporting accolade. In June 2013, Jacinta won the 54th US Masters Waterski and Wakeboard Tournament.
Despite the considerable training she puts in to remain at the top of her sport, Jacinta is ably fulfilling the academic requirements for her degree with plans to pursue postgraduate studies.
Follow our Alumni Awards online
Read more about the significant achievements of the awards finalists in their bios.
Follow the Twitter or Instagram hashtag #vualumniawards.