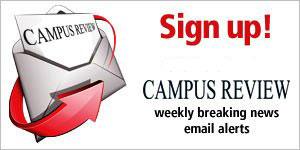 Victoria University has purchased institution wide access to Campus Review, Australia's only dedicated tertiary education publication for the sector.

You can sign-up to receive the weekly online edition email alert from the Campus Review editor and to visit and utilise the website as broadly as possible. Campus Review plays an invaluable role within the tertiary sector by covering, in an accessible, informed way, the major policy changes in the currently volatile higher education environment.
Accessing up to date industry and sector news can help you better understand the way Victoria University operates, and the kinds of external factors that affect your courses, your teachers and your on-campus environment. Why not check out news and views from around Australia, and what's going on at other Universities so that you stay informed about your University and your degree?
Campus Review will undergo major re-construction in the coming month to make it a more exciting interactive space, where those interested in, and working in Higher Education, will get news, in-depth features written by experts, have access to academic papers and e-journals, view videos aimed at aiding learning and teaching and research activities. The new functionality will also enable you to easily contribute to hot topic debates.
Sign up at the Campus Review site.

This service is 'IP-authenticated', meaning you do not need a user-name and password to access the online content but you must be connected to the VU network. You can access it on campus or by connecting to the VU wireless network.