Wednesday 20 November 2013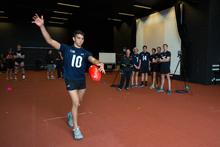 Victoria University recently lent its world-class sport research facilities to test and train 30 of the country's most promising AFL draft picks as part of its partnership with the AFL.
The talented 17-year-olds were selected from more than 6,000 aspiring Aussie Rules players from around the country, to participate in the AIS-AFL Academy in season 2014.
The Academy – ran by the Australian Sports Commission (ASC), through the Australian Institute of Sport (AIS), and the AFL – enhances the sporting, personal and educational opportunities of the young players.
As part of its partnership with the AFL, VU's Institute of Sport, Exercise Science and Active Living (ISEAL) has provided facilities for the Academy over the past two years, so they can gain vital data around the players' physical strength and skills, as well as coping abilities. The ISEAL facilities used to retrieve the information include:
3D body composition scanning – measuring muscle, fat and bone density
Biomechanics lab study – analysing kicking technique
Movement screening program – analysing key physical techniques
Electronic questionnaire on role strain – testing decision-making, time management, ability to balance training, school and life
James Veale, AFL Academies High Performance Manager, says the partnership has significant benefits for the AFL, the players and VU.
"VU is invaluable to have as a connection; it's a win-win partnership. We get access to these state-of-the-art facilities where players and coaches build athlete profiles on strengths and areas of development need, while VU researchers access our results for use in their studies in sport and exercise science."
With the motto of the Academy, "Building better people, better players", the 35-day camps based program includes training activities, visiting AFL clubs, as well as preparation for media and public speaking, and life skills such as etiquette and confidence.