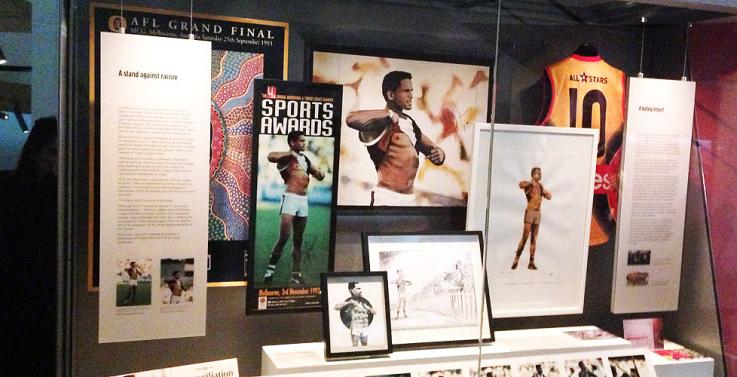 A Victoria University football historian has marked the 20th anniversary of the Nicky Winmar incident with a new exhibition.
Dr Matthew Klugman has researched and curated 'Black and Proud: A stand against racism' which opened April 16 at Melbourne's National Sports Museum.
The exhibition focuses on the famous incident on 17 April, 1993 at a Collingwood-St Kilda game at Victoria Park when Nicky Winmar turned to Collingwood fans, raised his St Kilda jumper, pointed at his stomach and said "I'm black and I'm proud to be black" in response to racial taunts.
"It is fitting that on the 20th anniversary of Winmar's powerful gesture, the National Sports Museum celebrates the impact that Winmar's action has had both on sport in Australia and as a symbol of pride for Indigenous Australians," Dr Klugman said.
"It's hard to think of a more important popular Australian image over the last two decades. It's up there with the 1968 Black Power Salute as a defining image of race and sport, and its enduring significance can be seen in the way it continues to be shown over and over again – in newspapers, posters, galleries and on city walls."
The exhibition features never-before-seen images captured of Winmar before and after his momentous gesture, as well as a selection of images and objects that demonstrate how the moment continues to be relevant today.
On display are posters, artworks and photographs that reflect the gesture, including work by Melbourne-based street artist Regan Tamanui (aka HAHA), paintings by Indigenous artists Hudson Dinah and Dan Kelly, and cartoons by Rocco Fazzari and Peter Nicholson.
The 20th anniversary will also be marked by a soon-to-be-completed documentary titled: Silent Shout: The Nicky Winmar Story produced by a long-time friend of Winmar's, Tim O'Brien.
Dr Klugman curated the exhibition with University of Queensland's Dr Gary Osmond. The pair have a forthcoming book on Winmar's symbolic act, and recently published an opinion piece in the Age.
The National Sports Museum is located at Gate 3, MCG, Yarra Park, Jolimont and is open daily from 10am to 5pm.