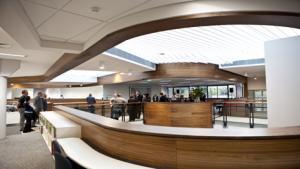 This month saw the official opening by Vice Chancellor, Professor Peter Dawkins, of the University's new $8.3 million Footscray Nicholson Learning Commons.
Garry Potter, who manages the University's libraries believes the new space provides students with a more informal, dynamic environment that will maximise their learning experience on campus.
He said, "When I first began working at the University 15 years ago, one would never have dreamt of such a revolutionary concept. Life on campus will change because of the new Learning Commons."
Footscray Nicholson's dynamic new learning hub is providing a one-stop shop for Library, student support services, café facilities, spaces for collaborative and interactive student work, and access to information and technology services.
The contemporary interior design married with study spaces such as the café-style booths, discussion rooms, walkways that link different areas, WiFi connectivity has meant the new space is rapidly gaining popularity and become the focal point of the campus.
Recognising the need for both individual and social dimensions to study, there is a dedicated 'Quiet Room' for those looking for a more traditional library experience along with the busy, lively social spaces where discussion and chatting is permitted.
VU student Majok Doong who spoke at the opening said that the old library was gloomy and that he wanted to thank VU for providing good facilities for student learning. Mjaok started his studies at VU with his VCE, did a Diploma in accounting and is now undertaking a degree.