Wednesday 13 November 2013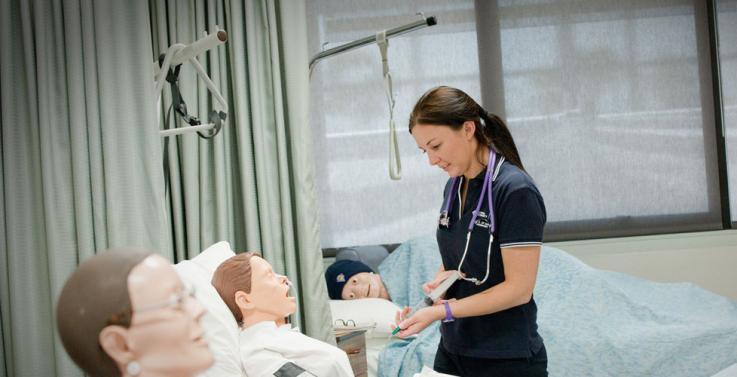 Victoria University has won a prestigious Business/Higher Education Roundtable (B-HERT) award in recognition of its outstanding ongoing collaboration with Western Health.
B-HERT announced VU as winner of the Ashley Goldsworthy Award for Sustained Collaboration between Business and Tertiary Education in early November.
B-HERT is the only national organisation with members who are leaders in tertiary education, business, industry and research.
The B-HERT Awards recognise sustained achievement in collaboration between business and higher education in the fields of research and development, and education and training.
Western Health has approximately 5000 staff and is the major public provider of acute health services throughout western metropolitan Melbourne, primarily through the Western Hospital, Sunshine Hospital and The Williamstown Hospital.
VU has undertaken collaborative work in many areas with Western Health over many years, including student clinical placements, research and work-based education programs.
"The Victoria University and Western Health partnership means that we work together to develop innovative courses in emerging areas of demand," said VU Vice-Chancellor, Professor Peter Dawkins.
"It allows for two of the largest public sector institutions in Melbourne's west to form a strong alliance to meet the challenges that arise in such a diverse area.
"The Diploma of Nursing and the Graduate Certificate in Management – Healthcare Leadership courses delivered by VU mean that Western Health staff are appropriately trained and qualified and continue to learn and develop."
Another collaborative project, the Western Centre for Health Research and Education (WCHRE), is a world-class teaching, research and development precinct adjacent to Sunshine Hospital.
"WCHRE is a three-way partnership between VU, Western Health and The University of Melbourne," Professor Dawkins said. "It is the first purpose-built research and training facility for medicine and the health sciences in Melbourne's west and hosts approximately 300 students and staff."
As well as providing an outstanding education experience and clinical placement location for student nurses, paramedics and other allied health professionals, WCHRE undertakes world-class research and incorporates the Australian Institute for Musculoskeletal Science.
Outside of health and biomedicine, VU's Centre for Strategic Economic Studies (CSES) is developing two research projects with Western Health to examine the economic value of enhanced disease prevention in areas such as chronic kidney disease and bone fracture.
And VU's College of Business is in the early stages of discussion with Western Health regarding mapping the patient journey and exploring the role of social networks in Aboriginal and Torres Strait Islander Peoples' willingness to access health services.
The region serviced by VU and Western Health contains areas of severe socioeconomic disadvantage, high disease prevalence and great cultural and ethnic diversity. It is also the fastest growing region in Australia.