Wednesday 1 February 2012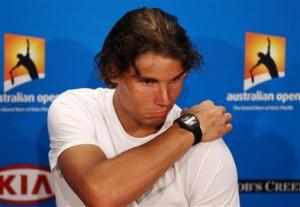 A Victoria University sports scientist says Rafael Nadal's long warm-up before his epic five-set Australian Open match against Novak Djokovic may have contributed to his loss.
Research by James Zois at Victoria University has looked at optimising warm-up routines. He says many elite athletes are warming up for too long and becoming fatigued for no real benefit before starting the match.
"My research would suggest that Rafa's long warm-up contributed to his loss, especially if the warm-up was completed on an outside court in the heat of the day in temperatures of around 35 degrees," Mr Zois said.
The School of Sport and Exercise Science doctoral candidate made the comments after Todd Woodbridge was reported in yesterday's Age commenting on Rafa's "extraordinary" hour-long long warm-up in which "he went hard".
"Beyond the 5 minutes needed to increase heart rate and muscle temperature, then a couple of targeted explosive routines, you can just start tiring players out for no real benefit," Mr Zois said. "Coaches need to restrict and focus their players' warm-up so they can save all that energy for use during competition."