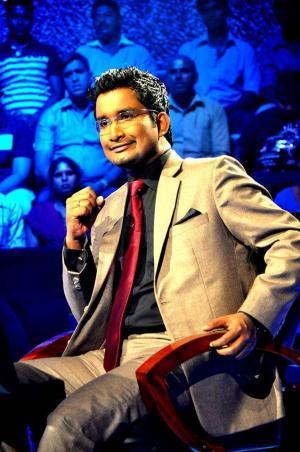 VU Alumnus and host of Sri Lanka's Who Wants to be a Millionaire?, Mr Balendran Kandeban, was honoured at the Australian Alumni Excellence Awards last night in Colombo.
He was selected by the Australian Trade Commission (Austrade) as winner in the category of 'Australian Alumni Excellence Merit Award 2014 for Business Administration'.
The award was presented by Her Excellency Robyn Mudie, Australian High Commissioner to Sri Lanka, and Ms Nicola Watkinson, Senior Trade and Investment Commissioner of Austrade-South Asia .
Kandeban's talents were evident since his early days at the Royal College Colombo in Sri Lanka where he was president of the dramatic society, editor of a school magazine and captain of the debating team.
He launched his career as a radio jockey with the Sri Lankan Broadcasting Corporation and is well known today as host of the Sri Lankan version of the TV game show Who Wants to be a Millionaire?.
In 2010 Kandeban managed a leading radio station in India while completing his Master of Business Administration (MBA) at Victoria University – a testament to his energy and multitasking skills.
He is currently Chief Executive of Sri Lanka's number one Tamil language radio station, Shakthi FM.