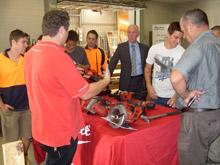 Victoria University's industry supporters had a tour of the School of Construction Industries' Melton Campus and the opportunity to meet staff and students at a BBQ held on Friday 16 March 2012.
The informal gathering gave representatives from CBUS, Milwaukee Tools, Paslode, Total Tools, Housing Industry Association, the opportunity to show the latest developments in tools and equipment. The team from Job Network were on hand to create a link between student and potential employers.
Peter Jacobson, Head of the School of Construction Industries, is impressed by the strong relationships forged between the industry and VU. "Catching up with our industry partners at events like these is another opportunity for us to continue the conversation. We have an ongoing commitment to ensuring our students are job ready. This is one of the ways we are connecting to ensure that our courses are delivering the right training outcomes."
VU has strong partnerships with employers and the community. Industry has embraced VU's programs, with employers from across the region offering the students meaningful employment opportunities.
The Melton Campus is a close knit community. It has a warm friendly environment and a wide range of local industry and community based courses.
Melton is the centre of VU's construction industry training.The School of Construction Industry at Melton Campus provides courses in building and construction from pre-employment programs through to para-professional skill development. We offer a great range of training opportunities from carpentry and cabinet making through to bricklaying and plumbing.