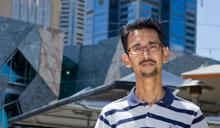 Victoria University warmly welcomes Muslim students. Syed Ashrene from Malaysia is studying for a PhD in International Business at VU's Faculty of Business and Law, and he and his family have easily settled into life in Melbourne.
They have found plenty of places to buy halal food, and his children are doing well at a local primary school.
"We've had no problems here," he said.
"The culture is new. It's easy to get halal food, and there are lots of other Muslims. I can also get halal pizza. It's great for families and it's easy to go to the city. I would recommend new students with families to come here."
Syed was fortunate enough to be able to take advantage a Malaysian Government scholarships. His studies are in international trade: imports, exports and exactly what considerations external investors take into account before investing in Malaysia.
Having a friend who had already been in Melbourne for two years was a great advantage, and she was able to help the family find a house.
As for culture shock? VU's multicultural campuses are the norm for him.
"In Malaysia we have lots of foreign tourists so I'm familiar with foreigners," he said.
"And there are mosques nearby in Preston and Thomastown, and a prayer room on campus, so it's very convenient for Muslims."