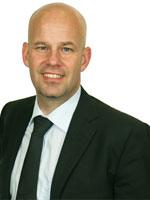 The director of Victoria University's Institute of Sport, Exercise and Active Living has told a meeting of key decision-makers in Victorian sport that Melbourne must extend its sports infrastructure into the west to remain a top sporting city.
Speaking at today's SportWest conference, Professor Hans Westerbeek said the city's cluster of sports infrastructure and concentration of sport business professionals was a major reason it could maintain the saturation of sport the city was famous for.
"Melbourne has this critical mass of sports infrastructure that began with the hosting of the 1956 Olympics and really picked up in the 1980s with the construction of Melbourne Park next to the MCG, more targeted government investment and a major events strategy," he said. "Melbourne is now unrivalled as far as a sports event city."
In the latest Sports Business Group independent rankings Melbourne was rated ultimate sports city in the world.
Melbourne supports 17 professional sports teams – Beijing supports three, Berlin five and New York 10. London has 20, but per million people Melbourne has more than twice as many teams than London and nearly 10 times more than Beijing.
Professor Westerbeek said for Melbourne to host more professional teams, extend its major events and maintain its position as number one sport city it needs to extend the reach of its sporting infrastructure.
He said existing infrastructure and growth forecasts were providing momentum for that to happen in Melbourne's west.
"In the west we have VU as a specialist tertiary education and research provider in sport, Maribyrnong College as an elite sport specialist high school, the Western Bulldogs as a professional sport organisation and the Victoria Racing Club as a premier elite sporting venue, just to name a few," Professor Westerbeek said.
"Logical extensions to that network are sporting links into education through the Department of Education and Early Childhood Development, into community health through Western Health, community development through LeadWest and business development through the Victorian Employers' Chamber of Commerce and Industry."
Professor Westerbeek was speaking at a seminar involving AFL CEO Andrew Demetriou, Grand Prix CEO Andrew Westacott and Tennis Australia CEO Steve Wood among others.
It was organised by Victoria University on behalf of SportWest – a conglomerate of the abovementioned organisations in Melbourne's west - to discuss sport and the Melbourne economy.