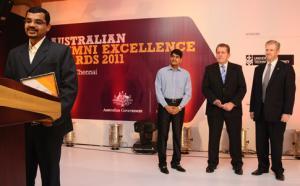 Victoria University Alumnus Karthikeyan Vaitheeswaran, was awarded the 2011 Australian Alumni Excellence Award in India for Community Service. The award was presented by the Hon Chris Evans, Minister for Tertiary Education, Skills, Jobs and Workplace Relations, at a function held in Chennai, India on Wednesday 3 August, 2011.
The Australian Alumni Excellence Awards recognise and honour Indian alumni who are standouts in their field of specialisation, or have contributed to the betterment of Australian education and the institution or alumni community.

Karthikeyan Vaitheeswaran completed a Master of Business Administration (MBA) from Victoria University in 2005. Upon completing his studies, Karthikeyan returned to India and volunteered in the Tsunami Relief and Rehabilitation Programmes in some of the worst affected remote villages in Tamilnadu. Karthikeyan extensively travelled to the villages and trained the youth and women in income generation activities through which they were able to rebuild their lives and livelihood. Hundreds of people have benefited from the efforts.
Thereafter, Karthikeyan joined the ILO (International Labour Organisation of the United Nations) as Project Officer in the Tsunami Rehabilitation Project in Chennai. Karthikeyan has made use of the management skills acquired from his studies towards building sustainable livelihoods of the poor and marginalized people.
Seeing Karthikeyan's professional work in sustainable livelihoods for the rural poor, the Food and Agriculture Organisation of the United Nations (FAO) recruited Karthikeyan as National Consultant for Livelihoods under the Fisheries Management for Sustainable Livelihoods Project. On completion of this project, it is expected to benefit 200,000 fishermen and their families in Tamilnadu and Puducherry.
His inspiring story was featured in the December 2009 issue of the Victoria University Alumni Newsletter Your VU: e-News for the VU Alumni Community.
Victoria University congratulates Karthikeyan for recognition of more than 10 years of experience in community welfare work, and for the betterment of communities in Tamilnadu and Puducherry in India.