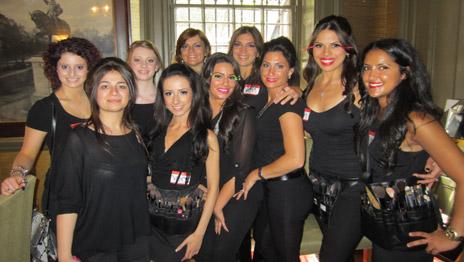 Victoria University's Diploma of Specialist Make-Up students had a unique opportunity to work behind the scenes at New York Fashion Week.
Analise Langdon, Natalie La Volti and Saleena Cheetamun had a week in New York soaking up skills at the 2012 Mercedes-Benz Fashion Week.
The trio's week of experiences included a workshop with renowned television and fashion makeup artist Angelique Velez. Ms Velez has worked with leading artists such as Christian McCulloch, Hung Vanngo, Makky and Tom Pecheux, has been a part of shows for Cynthia Steffe, Peter Som, Karen Walker and RAD by Rad Hourani and worked behind the scenes at the MTV Video Music Awards.
The session immersed the students in make-up artistry for the entertainment industry, furthering their skills and techniques. The opportunity to network with professional makeup artists was incredibly valuable, as was the chance to exchange tips on building a strong pathways into freelancing for television and events.
The highlight for the team was working on a live fashion show. It wasn't just any show; the team was on hand as Diane von Furstenberg showed her collection at the Lincoln Center. Ms von Furstenberg is President of the Council of Fashion Designers of America and a grande dame of New York Fashion Week. The students were part of the pre-show brief that story-booked the makeup concepts and they were on hand to assist and support the make-up team during the show. It was a real insight to the logistics of a high end fashion event.
"It was an amazing experience" says Natalie La Volti. "It was exciting to see where I could be in the future, I have been picking up tips and trade tricks from experienced show professionals. This is going to be a big advantage for future jobs."
Accompanying teacher Veronica Di-Girolamo was encouraged by the visit. "As an educator, it was a pleasure to see the impact this intense experience had on these students. Their experience has created a new benchmark for their skills and creativity, guiding them to exciting pathways. I am so proud that they have all embraced the opportunity to increase their level of awareness of the possibilities in the makeup and hair industry.
The students participated in the 2012 Mercedes-Benz Fashion Week as part of VU's Outbound Mobility Program (OMP). The OMP investigates outcomes for students who combine recognised training qualifications with experience applying their skills in an internationally-recognised forum.