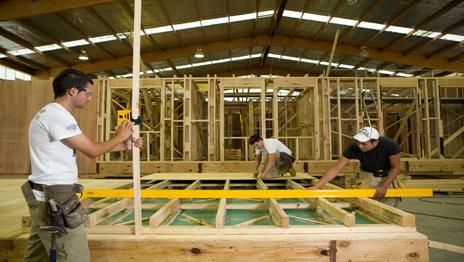 "If you see someone building a new house in Werribee, it's a fair chance they are a graduate of one of the pre-apprenticeship courses at Victoria University," according to Peter Jacobson, Head of the School of Construction Industries at Victoria University.
This semester a record sixty students enrolled in a pre-apprenticeship in carpentry or bricklaying at the University's Werribee Campus. Eighteen of the students live in Werribee, and twenty nine in the surrounding areas of Wyndham Vale, Hoppers Crossing and Point Cook.
Currently housing completions are struggling to keep up with population growth so a career in construction trades is a great option for school leavers and anybody looking for a career change.
Peter Jacobson said, "Our students are trained to be highly skilled and work ready and most of them will move into apprenticeships in the local area."
Silver Moo, from Burma is nineteen years old and has been in Australia for five years, he is now in his sixth week of studying bricklaying, so he can work with other people, develop new friendships and make money. He lives near the campus and is confident he will be able to work in the area when he finishes.
LayWah Kunoo, also from Burma, lives in Werribee and wants to be a carpenter. So far he has learnt scaffolding, house framing and hand and power tools, and is confident that he will become a successful carpenter working in the area.
Chris Parker from Werribee used to be a chef. Now he wants to become a carpenter so he can be self employed and build his own house. He said, "The pay for carpenters is a lot better and there are more opportunities for self employment and a lot more hands on opportunities. You get to create something larger scale as opposed to a chef creating a dish."
These students will have a bright future building the new houses planned for the City of Wyndham where the population is booming.