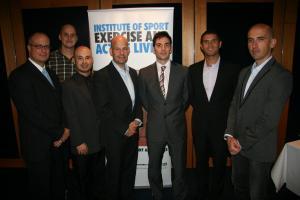 Members of Brazil's 2016 Olympic Committee and peak universities spoke at a special collaborative research symposium at Victoria University in Melbourne on April 20 2011.
Towards 2016: Australian and Brazilian Strategies for Success provided a platform for researchers to explore areas of collaboration between Australia and Brazil in the lead-up to the 2016 Olympic Games.
Guest speakers included Professor Luis Eduardo Viveiros de Castro, Head of Sports Science, Brazil's Olympic Committee, and Professor Allan Hahn, Chief Scientist at the Australian Institute of Sport (AIS).
"It was an exciting opportunity for guests to meet other researchers with similar interests in fostering research collaboration, to exchange ideas and explore funding opportunities,'' symposium organiser and VU Institute of Sport, Exercise and Active Living (ISEAL) Professor David Bishop said.
"There was a lot of discussion about the challenges and successful models for research collaboration, and different research approaches, and we look forward to the strengthening of our Brazilian relationships and the new opportunities that will be created from this event.''
Guests from the Federal University of Alagoas, the University of Sao Paulo and VU were treated to a traditional Aboriginal welcome and dance performance before the presentations kicked off.
ISEAL's Director Professor Hans Westerbeek spoke of his excitement for South America in the lead-up to the Olympics, and the untapped opportunities for Australian and Brazilian universities to work together, specifically in the area of innovation.
ISEAL has already created a new partnership with one of the top-ranked Brazilian universities "" the Federal University of Alagoas, that has specialised research expertise in sport science and is a member of the prestigious Rectors Council.
As a result of a recently signed Memorandum of Understanding, the Federal University of Alagoas has committed to sending its leading sport science researcher, Professor Dr Adriano Eduardo Lima-Silva, on a visiting fellowship to strengthen inter-institution collaborative research activities. Professor Adriano was also recently awarded a prestigious Endeavour Research Fellowship to spend more time at VU to conduct collaborative research.
The symposium was hosted by VU's ISEAL, with support from the Department of Foreign Affairs and Trade, Council on Australia Latin America Relations (COALAR), the Federal University of Alagoas, Brazil, and the University of Sao Paulo, Brazil.