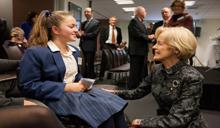 The Governor-General of Australia, Her Excellency Quentin Bryce AC CVO, officially launched the Spinal Cord Injuries Australia (SCIA) Walk On partnership with Victoria University on Monday14 May at Whitten Oval.
Walk On is a revolutionary exercise-based rehabilitation program that is changing the lives of people who live each day with spinal cord injuries.
SCIA therapists will work with students from Victoria University's postgraduate exercise rehabilitation course to teach them the benefits of Walk On techniques and promote community-based service delivery.
Associate Head of Sport and Exercise Science, at Victoria University Dr Clare Hanlon said, "Our students will learn SCIA's best practice techniques and have experience treating people with high needs from a rehabilitation perspective. Students will be actively involved in learning, teaching and research.
"This partnership increases the services Victoria University and SCIA can offer people who have suffered severe spinal injuries and highlights the strengths of exercise rehabilitation in our community."
Walk On National Operations Manager, Kierre Williams explains, "Walk On therapy results in greater central nervous system activity, improved core strength, muscle mass and movement for injured people as well as assisting their psychological and emotional health.
"Walk On clients range from young children to older adults and while not all of them will walk again, recovering the slightest movements can drastically improve their quality of life and independence and have huge benefits for their families."
With an estimated 360 Australians sustaining a spinal cord injury each year, the demand for services is high.
Two clients – Rod Watson and Isabel Martin – who have benefited from the therapy will speak at the program launch.
Rod Watson came off his trail bike and suffered a T12 complete spinal injury. He spent five months in hospital where he was taught everything he needed to know about living and accepting his future in a wheelchair. Rod attended Walk On for a 10 day program and was amazed by the results.
He gained strength, coordination and core stability and felt more mentally positive about his future after Walk On It gave him hope.
Thirteen-year-old Isabel Martin had an operation to remove a benign spinal tumour when she was eight months old which left her paraplegic. New groundbreaking specialist treatments will greatly assist Isabel. Since taking part in a recent trial, Isabel has experienced staggering results – she can now wiggle her toes and move and feel her legs.