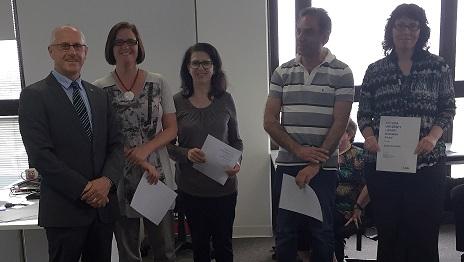 VU staff and students were given the opportunity to help recognise the great work of VU Library staff by nominating individuals or teams for Library awards.
The Library Awards have been presented to:
The outstanding contribution award went to Bronwyn Betts, librarian at the City Queen library, in recognition of her extraordinary knowledge of the Australian Guide to Legal Citation (AGLC).
The award also acknowledges the generous help she provides to students at the law school – with lines of law students around the library at times.
Sally Hand was presented with the service award for being continually helpful and friendly to Sunshine campus staff and students alike. She is "real professional at all times and nothing is too much trouble for her".
Krina McFarlane was recognised for her amazing support to many students studying at graduate level – her ability to re-frame a literature search to present students with more choices and to keep students in mind by sending them articles that she came across in her role at the library.
The innovation award went to Lou Connell, John Tripotseris, Dana Kuljanin and Jennifer Murphy from the Scholarly Information Services (SIS) team. In 2013, SIS Librarians started offering pop-up or drop-in sessions at locations outside of the Library where the students were.
The aim was to allow students to drop in when required, without an appointment, during specified hours when they could work with a library mentor on whatever they needed help with. The Librarians have offered the sessions in conjunction with Academic Support & Development colleagues.
The sessions have been acknowledged as effective in providing focused library assistance and as a supplement to more formal instruction sessions.