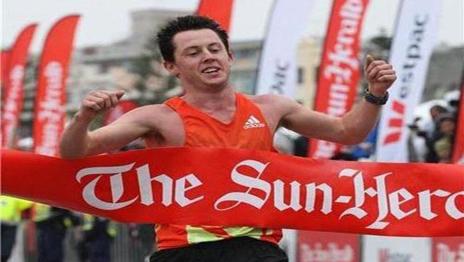 Victoria University student Liam Adams won Sydney's biggest road running race for the second year in a row finishing the 14-kilometre Sydney City2Surf in 41 minutes 31 seconds - 20 seconds behind his 2011 winning time.
As last year's winner, Liam started as race favourite but it's been more than twenty years since an Australian – Steve Moneghetti – was successful in winning two in a row.
In cold and very windy conditions, the five-time Australian cross country champion led the field of 85,000 for most of the race, which wended its way from Hyde Park in Sydney's CBD to Bondi Beach.
Liam's time was excellent considering the runners faced a heavy head wind after the halfway mark in the race.
Liam said that he went into the race knowing his race tactics would need to be regularly assessed and changed accordingly. He thought that to give himself the best chance he would have to try to control the race on his terms and it was always going to come down to a sprint finish.
Liam said, "I was confident in my ability to finish, but I knew if it was a slow tactical race then I wouldn't be working to my strengths. To give myself the best opportunity I needed to make the pace honest. If it was too slow then I really needed to try and make a break from the pack at some point.
"I got out quickly and somehow established a little break on the field. I thought it was a perfect opportunity to run away from the field and put the race on my terms but the New South Welshmen, Harry Summers, bridged the gap. I thought I had made the wrong tactical decision and had gone out too hard, I hadn't even hit Heartbreak Hill and I was about to be caught.
"Even though I was exhausted I continued to push the pace in an attempt to hold off being caught. I spent the last half of the race battling into the head wind and thought it was only a matter of time before I was caught. But to my surprise I extended my lead and was able to come into the finish without having to sprint to the line. I was very pleased with the result.
"I had spent my last couple of races practising sprint finishes but hadn't attempted front running from the start in a long time. It was a nerve racking tactic to use and I was quite fortunate that it worked."
The City2Surf has a rich history and is held in high regard by the distance running community, and by many people who don't follow running as a sport. To defend last year's title so convincingly in such a prestigious event is a great achievement for Liam.
Liam will compete in the Australian National Cross Country titles in two weeks time, where he will also be trying to defend last year's title and then the next big event is the World Half Marathon Championships in Bulgaria in early October.
Liam is completing a Bachelor of Exercise and Human Movement and is currently undertaking his field work placement with the University's Sport and Health Section working on the VUnite community events program and assisting to develop the Victoria University Athletics club.
Everyone at Victoria University congratulates Liam on his success and is hoping that he will fit the Australian University Games into his busy racing and training schedule.