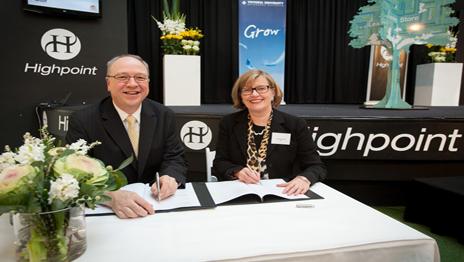 The Learning Store @ Highpoint was officially opened by the Hon. Marsha Thomson, Member for Footscray. The Learning Store is an initiative of Victoria University (VU), Highpoint Shopping Centre and The GPT Group.
Designed to offer free career advice to those living in Melbourne's west and a continuation of Victoria University's successful Community Gateways program, The Learning Store @ Highpoint provides access to the University's skilled career counsellors who offer guidance on course opportunities, career decisions, skills recognition and setting goals. The Learning Store also offers accredited programs for retailers, staff and shoppers.
Highpoint retailers and staff have been invited to complete a Recognition of Prior Learning (RPL) program at The Learning Store. RPL is an assessment process that recognises previous study by matching learning that has been achieved through study, life and work experience against learning that would be covered in specific subjects or units
There are 50 Recognition of Prior Learning applications in progress throughout Highpoint, and 20 have already been completed.
Since the start of the VU Community Gateways initiative in November 2009, over 2500 clients have accessed career education and counselling, with two-thirds utilising the Learning Store @ Highpoint to access these services indicating the importance of this local resource.
Speaking at the opening, Victoria University' Vice-Chancellor, Professor Peter Dawkins said, "We have a substantial presence in the west of Melbourne, and we take a great deal of pride in our integration with the community, not only through our physical infrastructure, but in working with our local communities to help them develop and grow through the exchange of knowledge, as well as education and training, which is integral to what we do.
"VU Community Gateways provides a unique service of career and study help for people who want to return to study or are considering a change of careers. It can help you: gain recognition for skills you already have; decide where to start when you return to study; follow study pathways that will help you achieve your future career; or find the program that is right for you."
During July the Learning Store will offer workshops in how to develop a winning job application, applying for jobs online and improving interview skills.
All workshops are free.
For further information contact the Learning Store on 043656360