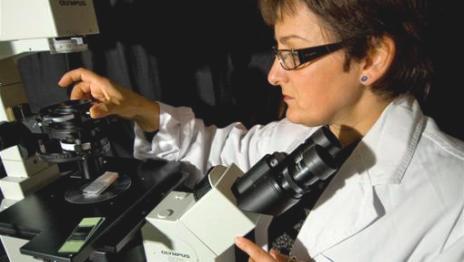 A laser scientist who believes regional schools deserve the same opportunities as city schools is donating thousands of dollars worth of scientific equipment.
Victoria University School of Biomedical and Health Sciences researcher Dr Nicoleta Dragomir will spread $5,000 worth of bio photonics equipment between five lucky schools in regional Victoria, including Devon North Primary School and Cranbourne East Primary School in May.
The equipment has been paid for through an education outreach grant from the SPIE international society for optics and photonics.
"I'm looking forward to personally visiting each school and showing them how to use the equipment," Dr Dragomir said. "That's the fun part because students really enjoy seeing all the cool equipment – even if many of them have never heard of photonics."
Photonics is the study of light and includes applications such as laser technology. The kits include digital microscopes, equipment to build telescopes, various magnifiers, Fresnel lenses, mini-lasers, prisms, polarizers and diffraction gratings, which split light into different coloured beams.
"It's a great opportunity for students to interact one-on-one with a real researcher while getting a feel for how extraordinary science can be," she said. "Whether or not it makes them think about a career in science it eliminates that fear of high technology."
Dr Dragomir, who will next visit three schools in Western Victoria, has purposely chosen schools away from central Melbourne so that regional kids can have a go at science.