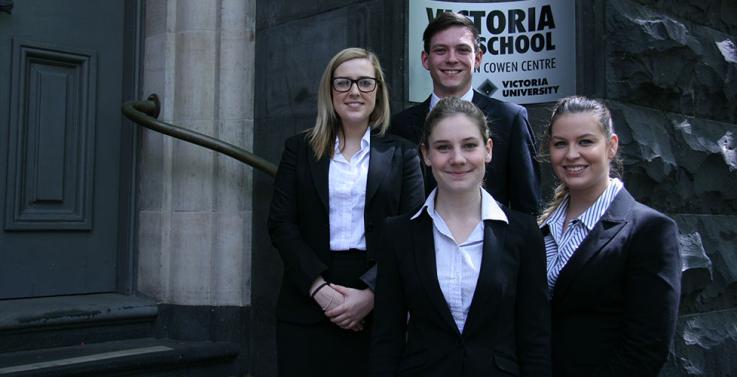 The 2014 Kirby Moot was a resounding success for Victoria University with both our teams making it through to the final rounds. We were the only Victorian team to qualify for the quarter finals.
The Kirby Moot is the premier national mooting competition for Australian university students which simulates dispute resolution proceedings for contractual law. This year was fiercely competitive. Twenty-six teams from 17 universities competed, with University of Western Australia narrowly taking out the coveted win.
Professor Andrew Clarke, Dean of VU's College of Law and Justice, was delighted to be hosting the four-day competition where students draft appellate submissions and present legal arguments.
"This is a wonderful opportunity for law students to develop fundamental skills which will better equip them for their future careers. We are grateful for the continued support of the Victorian Legal Community and privileged to have Chief Justice Marilyn Warren, Simon E. Marks QC, Michael D. Wyles QC and Chief Judge Michael Rozenes, and his Honour Judge Philip Misso involved in sharing their knowledge and skills with the next generation of legal professionals."
In presenting her summary of the final, Chief Justice Marilyn Warren commended the teams on their preparation, focus and understanding of arbitration, putting the Moot in the top three she has arbitrated in 16 years.
"What was refreshing was that you reflected what advocacy really is – the art of persuasion rather than telling the forum what to do. We encourage you, at every opportunity you have, to get on your feet and practice being an advocate."
The annual Michael Kirby Contract Law Moot was established in 2011 by Victoria University. It is the fastest growing law competition in Australia. The Moot is a fixture in the legal calendar and has strong support from the County Court of Victoria, members of the Victorian Bar, various law firms and practical legal training institutions.
VU encourages law student participation in mooting competitions as an opportunity to practice what they are learning in the classroom. Find more about College of Law and Justice courses and practical education programs.