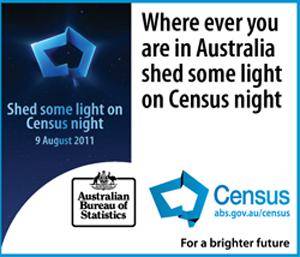 The next Census of Population and Housing will be held on August 9 and involves every person in Australia filling out a form with information about themselves and the dwelling in which they live. The Census is compulsory. Everyone in Australia on August 9th is counted, including International Students and students without a permanent home.
If you are couch surfing, staying in temporary accommodation, including emergency accommodation, refuges or hostels, caravan parks, motels, or even with family or friends, mark 'NONE' in the Suburb/Locality box for Question 10 - Where does this person usually live.
What can a Census really tell us about Australia, and about ourselves? Try out the Spotlight website to find out and create your own infographic!
The data you provide will be used to plan for infrastructure and services you use every day including hospitals, schools, public transport and roads. The Australian Bureau of Statistics will ensure the information you enter on your form is kept private. It will not be passed on to any other organisation or government department.

You can
fill in the paper form which will be delivered to your home or
complete eCensus online
If you or your family would like information about the census in a different language, please visit the Australian Bureau of Statistics website.