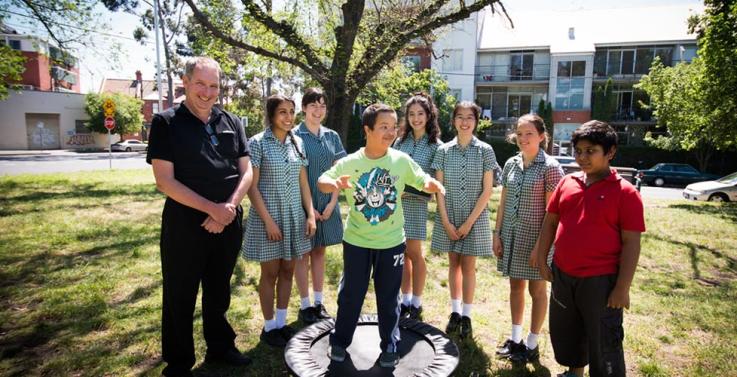 A speaking trampoline developed by Year 10 students in partnership with VU is helping children with disabilities develop confidence and strength.
The iJump trampoline was officially presented to children from Yarraville Special Development School (YSDS) on 6 November.
Through the Engineering Students @ Work program, Year 10 students from Presentation College in Windsor developed the iJump in collaboration with Victoria University and YSDS.
The Year 10s met with representatives and students from YSDS to design an interactive trampoline that would assist children with disabilities.
The design included a device attached to a small trampoline that registers when children jump, and rewards them with words of encouragement, music and sounds, all recorded by the children themselves.
This activity develops balance, confidence and core strength in the children, many of whom have intellectual and physical disabilities.
The students developed and produced the iJump under the guidance of VU's College of Engineering & Science lecturer, John Chlond. The students attended intensive workshops at the Footscray Park Campus to produce the working prototype.
Chlond says the Engineering Students @ Work partnership exposes high school students to the benefits of engineering, while helping children in the community.
"This program is an excellent way to introduce students to the world of engineering by focusing on the creative and human aspects of engineering rather than hard maths and sciences," he says.
"The final handover of these projects to the Special Developmental schools is always an exciting and emotional experience; seeing young people helping other young people is heart-warming."
This team building work experience program is a partnership between Victoria University, Akorn Educational Services and local schools.
Now in its fourth year, the program has seen other projects such as iTed, an award-winning interactive teddy bear that helps autistic children to communicate, as well as a pedestrian crossing trainer that is being used for road safety programs (supported by Vic Roads) in special development schools around Melbourne.