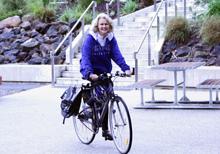 Fiona Henderson, Senior Coordinator of the Student Learning Unit of VU College is organising a unique charity cycling event for 1-9 February 2014.
The inaugural Western Health/Victoria University Thailand Cycling and Fundraising Challenge will raise much needed funds for patient care and research in orthopaedics at Western Health.
The fundraising event is part of the University's mission to engage with organisations and communities within Melbourne's west, which includes Western Health.
The VU-Western Health partnership has produced a number of great outcomes to support joint and combined activities in promoting the health and wellbeing of the residents in the western region of Melbourne.
"We are looking to take a team of 30, and everyone can take their own personal challenge," says Henderson.
"My personal challenge is generating enough interest and making this event a successful one."
The total cost of the trip is $3450, which includes return flights, a leader from tour operator RAW Travel, accommodation, bikes, transport vehicles and meals. Each participant will need to commit to raising $1500 for the Western Health Foundation.
The ride is open to cyclists of all skill levels. Participants will ride to Hellfire Pass in the Tenasserim Hills with a train ride along a section of the old Burma-Thai rail line. The ride continues to the Southern Thai coastline where participants will pass through national parks, fishing towns and stunning beaches.
Register today to secure your spot on the team. For more information, contact Fiona Henderson at 0431 075 536 or [email protected].
Training sessions (open to anyone)
Sunday 10 November 9am – 12pm
Sunday 8 December 9am – 12pm
Sunday 19 January 9am – 12pm
Meet in the car park between VU Aquatic Centre and the Maribyrnong River.
About the Western Health Foundation
The Western Health Foundation was established in 2011 and is the charitable arm of Western Health. The Mission of the Foundation is:
"Dedicated to raising funds to assist Western Health and the people of Melbourne's west".
The activities of the Foundation are directed towards the following objectives:
raise funds for the purchase of equipment and certain facilities at Western Health
fund medical research undertaken by Western Health
provide scholarships for staff at Western Health.