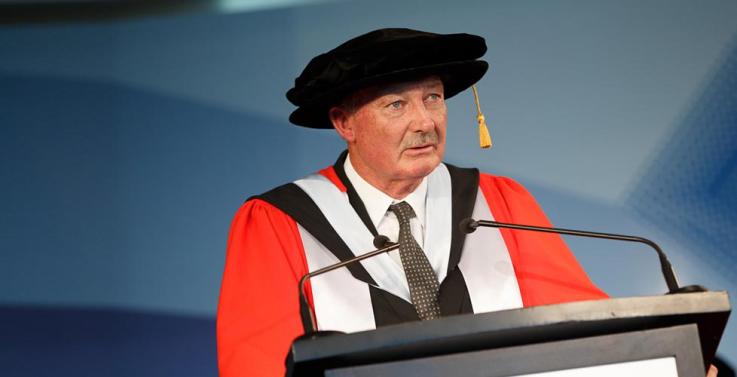 Renowned yachtsman John Bertrand AM was awarded an Honorary Degree by Victoria University on Thursday 25 October.
In recognition of his outstanding achievement in the field of international yachting, his broad ranging contribution to Australian sport and his commitment to the protection of children through his leadership of the Alannah and Madeline Children's Foundation he was admitted to the degree of Doctor of the University, honoris causa.
At the ceremony Victoria University Vice-Chancellor Professor Peter Dawkins said the University was proud to honour John Bertrand.
Professor Dawkins said, "Dr Bertrand studied engineering at Monash University graduating with a Bachelor of Mechanical Engineering (Hons) degree. While studying at Monash he wrote his thesis on the aerodynamics of America's Cup yacht sails. He was awarded a full blue for sailing in 1968. Dr Bertrand subsequently completed a Master of Science degree in Ocean Engineering at Massachusetts Institute of Technology.
"A world champion and Olympic Bronze medalist, Dr Bertrand represented Australia in five America's Cups and two Olympic Games. He skippered the winged keel, Australia II, to win the 1983 America's Cup, after 132 years of American domination. The Australia II victory was recognised by the Confederation of Australian Sport as the 'greatest team performance in the 200 years of Australian sport'."
Dr Bertrand's association with the America's Cup extended over more than 25 years. He is a life member of the America's Cup Hall of Fame, and his involvement with sailing continues through his role as Chairman of Selectors for the Australian Olympic Sailing Team.
In 2001, Dr Bertrand became chairman of the Alannah and Madeline Children's Foundation. He remains Chairman and the Foundation is now a world leader in anti-bullying and child safety and well-being programs.
Since 2005, shortly after his appointment to the Board in 2004, Dr Bertrand has Chaired the Sport Australia Hall of Fame (SAHOF), which aims to inspire all Australians by recognising and promoting the outstanding sporting achievements of our greatest athletes, and encourage everyone, young and old, to reach their sport and life potential.
In August 2013 he became Chairman and President of Swimming Australia.
Professor Dawkins said, "Through Victoria University's association with SAHOF Dr Bertrand has become a strong advocate for the University's teaching and research excellence in the areas of sport and exercise science. He has spoken publicly about the outstanding facilities at Victoria University and is helping to raise the University's profile in the sector.
Dr Bertrand described receiving his Honorary Degree as a "wonderful highlight" of his career.
He said, "This is huge honour for myself and my family to receive this Honorary Doctorate from Victoria University. I love this country, I love what we stand for in terms of freedom and I love the fact that sport is such an important part of our DNA as a nation. We are indeed a lucky country.'