About 150 guests from the sporting and academic world attended the launch at the Footscray Park Campus.
Director of the AIS, Professor Peter Fricker, said he was delighted to partner with ISEAL because of its research depth and excellent facilities.
"What makes the Institute unique is that it brings together all the best people to form a critical mass of expertise," Professor Fricker said.
"The state of the art facilities that ISEAL is putting together in its new building will enhance the spirit of collaboration that ISEAL is developing."
Professor of Sport Science Damian Farrow, whose position is jointly funded by VU and the AIS, announced three joint initiatives and research projects being led by ISEAL and the AIS:
Undergraduate and postgraduate programs developing research skills to support AIS sport programs in skills acquisition, physiology and performance analysis
Applied research projects leveraging the strengths of the two groups to enhance athlete talent development pathways of partner sports organisations
Working with the CSIRO on harnessing interactive technologies for sport skill learning
Vice-Chancellor Professor Elizabeth Harman paid tribute to the long-term planning involved in setting up ISEAL, in particular by former Head of the School of Sport and Exercise Science, Professor Terry Roberts, and ISEAL's inaugural research director, Professor Mike McKenna.
"ISEAL represents the future of sport and science," Professor Harman said. "VU is perfectly positioned to make our fundamental and applied research in sport, exercise and active living relevant to the full spectrum of stakeholders from the community level to elite athletes."
Other speakers at the launch included the CEO of the VU's major sporting partner, the Western Bulldogs, Campbell Rose, and ISEAL Director Professor Hans Westerbeek.
Professor Westerbeek said he was excited about the future of ISEAL, which will move into its new purpose built facilities on the Footscray Park Campus at the end of the year.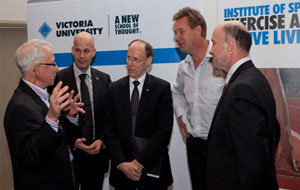 Guests and members of ISEAL at the launch