Thursday 17 November 2011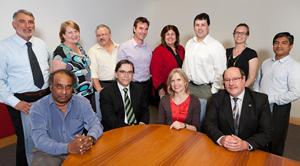 Victoria University's Project Management Course Advisory Committee (PMCAC) is one of the University's most engaged and innovative industry advisory committee. It has members from various organisations such as: Savills Project Management, Lend Lease, ISIS, Melbourne City Council, Hollow Core, AMP Capital, and the Australian Institute of Project Management.
Michael Jackson, Divisional Director of Savills Project Management, chairs the Project Management Course Advisory Committee in Health, Engineering and Science. He is instrumental in leading the Committee's projects.
Michael's experience and the encouragement he received at VU prompted him to become an active alumnus and support upcoming generations of Project Management students.
"Victoria University's Project Management course was pivotal in enabling me to achieving my career goals." he said. "As a student in VU's postgrad PM course, many years ago, my lecturer, Mr Vinayaga Sarma, suggested that I undertake a Masters in Project Management."
"Given that I was the first member of my family to even go to University, this was a pretty lofty suggestion but I was inspired. I followed his advice and am pleased to say that I have never looked back. As a Divisional Director in Savills newly expanded PM business in Australia and with Savills global resources across 200 offices worldwide, I use the skills that I developed in the VU course on a daily basis."
The Committee actively collaborates with academics to ensure that the Project Management course content remains vibrant, current and of the highest standards. The Committee has instituted a number of initiatives:
Project Management Master Class Series
A series of seminars on topical project management matters specifically designed for the industry. The Master Class series offers significant means for VU to showcase its courses while simultaneously servicing the regional industry. These seminars are conducted by the Committee. The most recent Master Class in August 2011 was on managing the complexities in implementing the Federal Government's Building Education Revolution. This attracted more than 70 external industry participants.
Unit award sponsorships
Annual financial awards given to the best performing student in each unit of study. Sponsorships of $1,000 are provided by companies for each of the eight units of study in the course and awards are presented to successful students at the University's annual awards ceremony.
Industry involvement in units of study
Industry personnel serves as guest and specialist lecturers, and companies provide Learning in the Workplace and Community (LiWC) projects to students. This initiative enables students to engage directly with industry while still at University. This is an important part of VU's work-based learning approach in preparing students for their careers.
Mr Vinayaga Sarma, Project Management Course Coordinator, is pleased to be part of VU's Project Management Course Advisory Committee. "The expertise and commitment demonstrated by this Committee has ensured that our course is continually reviewed to meet the needs of industry, which in turn, then meets the needs of our graduating students. This ongoing University-industry partnership is a major strength of our course." he said.