The safety and education of international students dominated discussion during a special visit to Victoria University (VU) by the Minister for Overseas Indian Affairs Vayalar Ravi last week.
City Flinders campus played host to the event on June 16, which was attended by Indian Consul General in Melbourne Anita Nayar and representatives from Victoria Police, Metropolitan Fire Brigade, Life Saving Victoria, Rootvij Kadakia Foundation, Australian Federation of International Students, VU Council and a number of Indian students from TAFE and Higher Education.
In the wake of a series of violent attacks against Indian students in Melbourne, Minister Ravi praised the work of VU for making international students feel welcome and urged police to continue to pursue perpetrators of crime.
"Police really need to protect the students and make them feel that Australia is their second home,'' Minister Ravi said. "It is up to authorities and organisations like universities to make them feel safe here.''
He said a lack of information and arrests made visiting students feel worried.
"It is the right of the victim to know who has caused them this trouble. But I don't like to speak of the past; I'm looking to the future.
"Australia has one of the closest friendships with India and it makes me happy that there is a great opportunity for Indian students to come and stay and be provided with quality education.''
Victoria Police Inspector Ian Geddes said a new one-minute animated advertising campaign aimed at international students would soon be released on mobile phone, Facebook and YouTube.
"When an international student first arrives in new surrounds they can sometimes find themselves in the wrong part of town,'' Inspector Geddes said. "The signals of risk at a particular place might not be the same as in their home countries.
"This new campaign, which we are hoping will go viral via social media, is about thinking before you travel from home, from work and on public transport.''
International Student Support Associate Director Danielle Hartridge gave a presentation on the importance of student safety and some of the programs VU has been using to assist with integration.
"We need to make sure international students feel valued in the community and that we acknowledge their great contributions,'' Ms Hartridge said. "We want them to learn about our culture but we also want to learn about their culture. It's about focusing on what we all have in common, not the differences.
"We take the safety of our students very seriously and we want to make sure they have a very pleasant and fulfilling experience while they are here.''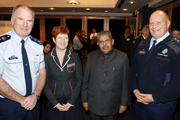 Minister Vaylar Ravi with Victoria Police and Dr Anne Jones
Contact us
Daniel Clarke
Senior Research Writer/Journalist
Phone: +61 3 9919 9491
Email:

[email protected]