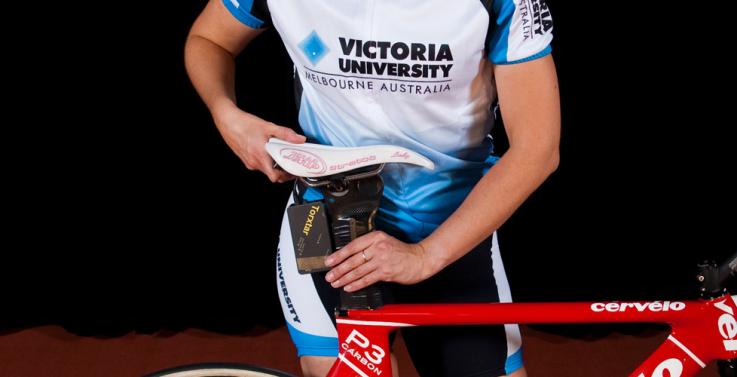 A tiny computer created at Victoria University offered an edge to Australian cyclists as they chased Olympic gold in London.
The unique technology of the 72-gram Torxtar™ was developed by a team of VU engineers and biomechanics researchers. It helped shave time from the performances of Australia's elite track cyclists by recording and analysing the biomechanics of their pedalling during training.
Pedalling data generated by the unit, which fits unobtrusively beneath a rider's saddle, provided accurate measurements of a cyclist's neuromuscular capacity. It was used to fine-tune performances to match conditions on various training tracks or velodromes selected by the Union Cycliste Internationale, the governing body for top cycling competitions.
The principal investigator on the project was Dr David Rouffet from VU's Institute of Sport, Exercise and Active Living (ISEAL). He says that the group of researchers made significant progress in the study of sprint cycling performance by taking the science of cycling biomechanics from the laboratory into the velodrome.
"An improvement of one or two per cent doesn't sound like much, but it's massive for an elite track cyclist where one-tenth of a second can be the difference between winning a medal or not," Rouffet says.
The Torxtar™ helped Australia's top cycling sprinters optimise their performances at the World Cup Classic in London last February and the World Championships in Melbourne in April.
The project is supported and was developed in collaboration with:
You can read the full article in the latest issue of Connections magazine.