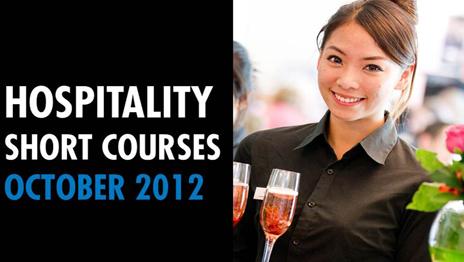 If you are planning to work in hospitality over the break - prepare yourself with a current Certificate in Food Safety and Hygiene and Responsible Service of Alcohol.
Victoria University offers government certified, industry approved courses to prepare you for working in the vibrant hospitality industry. Train with teachers who are up to date with the latest industry trends.
Our courses are delivered through a combination of theory and practical activities to ensure you are ready to work on course completion.
Responsible Service of Alcohol

Before you pour your first beer or mix your first drink you are required by law to complete an approved Responsible Service of Alcohol program.

This is a government certified and industry approved course where you will learn the essentials of alcohol service.

Next course date: Tuesday 2 October 10am -2pm

Food Safety and Hygiene

Good hygiene practices are an essential ingredient for a career in the hospitality industry. Australian law requires all staff handling food to be trained in good hygiene practices. Our course is nationally accredited.

Next course date: Wednesday 3 October 10am - 3pm

Food Safety and Hygiene Level 2

Take your hygiene practices to a new level with our supervisors course. Australian law requires all staff handling food to be trained in good hygiene practices. Our course is nationally accredited.

Next course date: Wednesday 10 October 10am - 4pm

Barista Training

Make a great coffee each and every time! Learn the basic barista skills to gain employment in the finest coffee houses.

This course provides a strong foundation for those wanting to pursue a career in the coffee industry or for home baristas.

Next course date: Thursday 4 October 10am - 1.30pm

Location: Coffee Academy, Footscray Nicholson campus