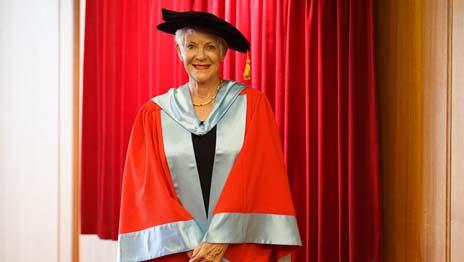 Ms Di Foggo, former Deputy Chancellor of Victoria University was awarded an Honorary Degree by Victoria University on 24 October 2012.
She was admitted to the degree of Doctor of the University, honoris causa, in recognition of her outstanding contribution to industrial relations in Australia, particularly in advancing the role of women in the industrial relations process, and for her significant contribution to the growth and development of Victoria University as a Council member for more than 10 years.
At the ceremony, VU's Vice-Chancellor Professor Peter Dawkins said, "Ms Foggo was appointed to the Council of Victoria University in 1999, and is a former Deputy Chancellor of Victoria University, a position she was elected to annually from 2002 until her retirement in 2011. She was a Commissioner at the Australian Industrial Relations Commission (AIRC) and its successor, Fair Work Australia (FWA) from 1992 to 2010.
Throughout her time on Council, Ms Foggo was passionately committed to the University and was a tireless exponent of the University's mission to transform lives through the power of education and to develop the capacities of industry and the community in the west.
She joined the then newly established Strategy Committee of Council in 1999 and chaired that Committee from 2004 to 2009, guiding oversight on behalf of Council of the roll-out of successive University strategic plans. She was a member of the Chancellor's Committee and Remuneration Committee from their inception, and following her retirement as Chair of the Strategy Committee at the end of 2009, she was an active participant in the Audit and Risk Committee.
Ms Foggo also acted as Chancellor on a number of occasions and presided at many Graduation ceremonies.
She began her career as a teacher and remained in the profession until her election as General Secretary of the Northern Territory Teachers Federation in 1982. Ms Foggo was subsequently elected to the Australian Education Union/Australian Teachers Federation and was Federal President 1988-1992. She was awarded Life Membership of the Australian Education Union in 1993. Ms Foggo was also a Vice President of the Australian Council of Trade Unions from 1991-1992.
In 2010 Ms Foggo was elected as a Life Member of the Industrial Relations Society of Victoria for her instrumental role in recognising and fostering the professional development of women in the field of industrial relations across all sections of the Society – unions, government, private enterprise, students and academics. She was also patron of the Women in Industrial Relations Interest Group."