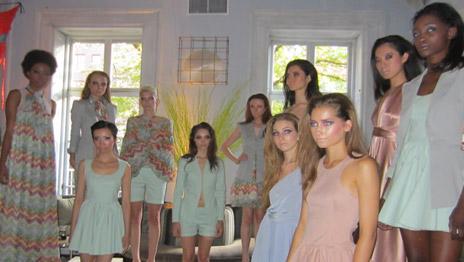 Victoria University's hairdressing students, Ainslie Fisher, Alishia Misevski, Frankie Endersbee and Linda Fadda made the most of the opportunities available during their ultimate work experience at New York Fashion Week.
During the eight day visit the students enjoyed an exclusive behind the scenes tour of the Cutler Salon, one of NY's foremost salons.
The team worked on models back stage at fashion shows including Rachel Zoe and Maybelline and assisted one of New Zealand's top hairdressers, Richard Kavanagh.
Industry engagement is a valuable way to grow skills and knowledge. The NY experience exposed the team to an environment where they needed to combine technical excellence and speed. Their participation gave them an insight into how fashion designers and the fashion itself dictate the type of hairstyles required.
"We were working with stylists from around the world" reveals Linda Fadda. "Behind the curtains is a frantic but amazing experience. Our team had 3 hours to complete the hair and make-up of 25 models!"
Alishia Misevski confirms the hectic environment that is fashion week. "Nothing could have prepared me for the craziness. I learnt what it's truly like to work under pressure. It was an incredible experience I will never forget! I can't wait to be able to share my knowledge and new techniques."
The students were accompanied by Freda Rossidis, one Australia's most respected hairdressers and owner of CAST Salons. Freda has a long association with VU's hairdressing program and is a passionate supporter of the students. It was her long established relationship with former VU alumni and owner of one of NY's foremost salons Rodney Cutler, which made the NY experiences possible.
"I am so excited to be mentoring the hairdressing students for New York Fashion Week," Freda said. "It is a life changing experience and something that they will always remember. We need to show the young up and coming stylists how amazing our industry is and what great opportunities come our way if we push the boundaries and work hard for it."
The students participated in the 2012 Mercedes-Benz Fashion Week as part of VU's Outbound Mobility Program (OMP). The OMP investigates outcomes for students who combine recognised training qualifications with experience applying their skills in an internationally-recognised forum.
Victoria University is a leader in specialised training for the hair, beauty, make-up and modelling industry with a team of professional and highly qualified educators. We offer a range of courses that provide a pathway for you to become a part of this exciting industry.
To find out more about short courses, certificates and diplomas, please contact us:
School of Service Industries
Phone: +61 3 9919 7854
Email: [email protected]