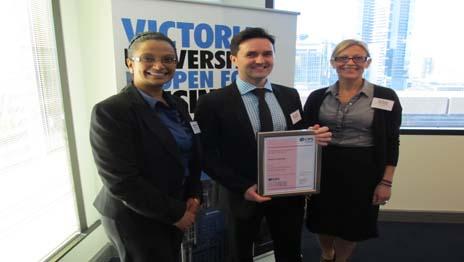 On 30 October 2012 Victoria University's School of Management and Information Systems, in conjunction with the Department of Management at Monash University, hosted an industry seminar that tackled some of the procurement challenges facing today's organisations.
The importance of the role of procurement has increased dramatically in recent times, with the substantial amounts of money being spent on organisational purchases and the potential savings that can be made through the implementation of a focused procurement strategy. Procurement strategy is now regarded as a key component in achieving overall corporate strategies.
The seminar brought together 40 industry practitioners from organisations such as Bosch, Siemens, Telstra, Damco and Epworth Health, and some of Australia and America's leading academics in this area. A series of keynote speeches and round table discussions covered the biggest procurement challenges facing today's organisations, and the critical elements for successful procurement and effective buyer-seller relationships.
George Vrakas, from ANL Container Line said, "It was great to have the chance to engage with both academia and industry, and understand the procurement challenges faced by a variety of industries."
Nick Morandini from BASF added, "There was real value in being able to converse with like-minded industry professionals, and in sharing real-life, ground level problems. By the end of the day I was able to take away ideas for creative solutions to workplace challenges."
At the same event an official certificate was awarded in recognition of Victoria University's Master of Business (Supply Chain Management) course being successfully accredited to MCIPS standard with The Chartered Institute of Purchasing & Supply (CIPS). CIPS are an international education and qualification body, representing purchasing and supply chain professionals, who provide a range of services for their members and the wider business community.
Course Director for the program, John Hopkins said, "This is a fantastic achievement, and one which recognises the excellent reputation VU now has in providing first class, industry-relevant, higher education programs in the area of supply chain management and procurement."