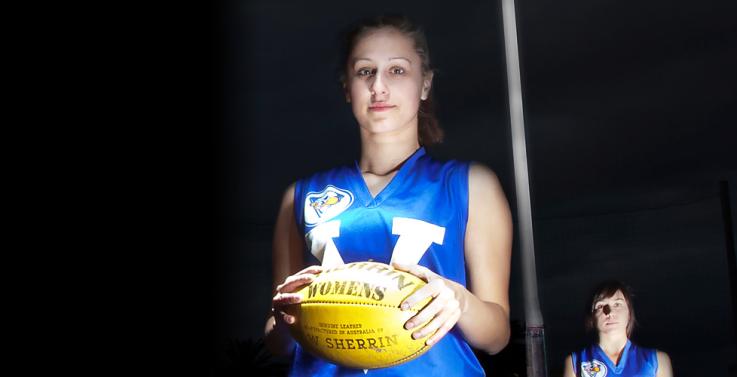 The crushing score was 77-0 when the whistle blew on the women's Aussie Rules grand final. Victoria University had just defeated RMIT to become champions without parallel at the Southern University Games (SUG) held in Geelong during July.
VU's Aussie Rules girls have only lost one game out of 23 played over their last three tournaments. Apart from the Geelong SUG trophy, they hold the women's Aussie Rules trophies for the 2010 Bendigo SUG, and the 2010 Perth Australian University Games (AUG).
The extraordinary run of domination by the girls was publicly proclaimed by Victoria University when they were recently announced as VU's 2010 Sporting Team of the Year.
Aussie Rules football is often thought the domain of males - it's tough, it's hard, and blood gets spilt. Breanna Wright, team manager of the VU women's team, has been playing with the girls for three years. When people find out she plays Aussie Rules, Wright says their reaction is often one of disbelief: "They say, 'Really? Are you sure?'." The reality is that in recent years girls have been storming footy grounds in ever-increasing numbers.
According to the AFL's most recent statistics, by 2009 there were over 80,000 women and girls playing in Aussie Rules competitions across Australia. Twelve of the 22-strong VU Women's squad also play outside of university competitions at the highest levels of women's football in Australia. These include clubs in the Victorian Women's Football League (VWFL) and the team representing Victoria in the Women's National Championships (WNC). One of the girls, Ashley Guest, played in the winning grand final teams of both those competitions. Having such depth of talent is at the heart of the VU women's success. But how does a university team attract such elite players?
Step forward coach Michael Sandry. Sandry has had a large influence in shaping the team's formidable talent. He not so incidentally works for VU as a student recruitment officer, coaches the VFWL's Melbourne University Mugars (named after, but separate from, Melbourne University), and also used to play for the Mulgrave Seniors in the Eastern Football League.
Appointed just two years ago, Sandry had a plan from the beginning. "I leveraged my coaching contacts to find out which elite players were students at VU, and did some recruiting to bring together the best girls," says Sandry. "I also introduced more training and taught set plays and team positioning." In one instance of using pro training techniques, Sandry ordered the team into freezing, mid-winter Port Phillip Bay between matches during the Geelong SUG to aid the recovery of quite a few very sore muscles."I screamed at him the whole time," says Wright.
Experiencing pain is not unusual. Players have suffered dislocated shoulders - even a broken coccyx. "The girls are just as physical as the boys," says Sandry. At the end of a tournament of six or seven games the girls are covered in purple-yellow bruises. "We're going for the ball, though," insists Wright. "It's not about trying to harm each other."
If physical domination were the goal, then the team would not attract the physical range of girls that it does. "We have really girly girls, and others have grown up playing backyard footy with their brothers," says Wright. "It's really diverse and the mix of skills you end up with is what makes it work." In fact, Wright says the reason she puts up with ice-cold beach sessions and risks broken bones comes down to her teammates. "They're a great bunch of girls to be around. It's mainly the group of girls that's kept me playing."