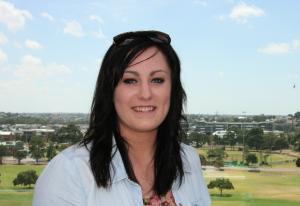 Nattalie Perkins almost gave up her dream of being a St Kilda Football Club manager until a little bit of luck came her way, got her back on track and made her more determined than ever.
The 18-year-old athlete and die-hard Saints fan just graduated from Bendigo Senior Secondary College and believes she has what it takes to make it as an AFL business manager and sports trainer.
"The idea is to do something I love and make a difference in the club I go for, both in the business and sports training areas," she says.
But moving to Melbourne by herself to study was never going to be cheap or easy.
"I was actually thinking about pulling out of university," she said. "With the financial side of it and moving to where I didn't know anyone, I was too worried of jumping in the deep end and not being able to swim."
Then, while wrapping gifts at work one day, she got a call from Victoria University telling her she'd won $5,000 worth of prizes to help with the transition into full time study at university.
The university's Get Set to Study package has been awarded to five students and includes a laptop, printer and bicycle as well as vouchers for shopping, public transport and text books.
"I seriously thought it was a joke at first," she says. "Then I realised they were serious and I was ecstatic. I went back to work and I couldn't wrap the presents because I was shaking so much."
Perkins will now be studying a Diploma of Sports Development and hopes to get to a Bachelor of Sport Management.
After moving down to Melbourne's western suburbs she plans to join the VU St Albans Spurs Football Club because she heard they were one of the best around.
"I take my sport pretty seriously and yeah of course sport is fun but it's my drive to win that is my highest priority - I'm very competitive," she says.
Perkins has the same attitude whether in sport, business or study, and knows she will need every bit of that drive to make it to the AFL.
"Girls might seem to get the same opportunities these days but I think we still have to work a bit harder to get noticed and to make it," she says. "There are more girls coming into the management side of things but football is still pretty much a man's club."
Victoria University's strengths in sports science and management, as well as close links to the Western Bulldogs Football Club and other sports organisations are opportunities Perkins says she will seize.
"By working hard and taking in everything I can learn at Victoria University I'm confident I'll develop the skills I need," she says.
And while St Kilda is the dream, she says just about any AFL club would be fantastic.
"Just preferably not Collingwood," she says.
A new competition next month will award another five prize packs worth $1,000 each to students starting an Apprenticeship and Traineeship course at Victoria University in 2012.