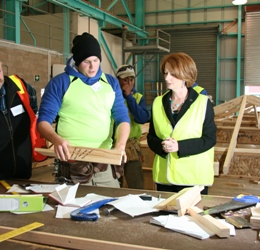 Deputy Prime Minister Julia Gillard chose VU's Werribee Campus last month as the venue to launch a $100 million Federal Government Apprentice Kickstart program.
The program will support up to 21,000 young Australians entering traditional trades this summer.
Ms Gillard was joined by Local Jobs Champion Lindsay Fox to announce the plan to drive apprenticeships.
"The Apprentice Kickstart will more than triple the first-year bonus paid to employers who take on traditional trades apprentices this summer," Ms Gillard said.
"We're boosting the commencement bonus from $1500 to $2350 and then following up with another $2500 at nine months which means employers will now receive $4850 in the first year for taking on a traditional trade apprentice over the summer. The summer apprentices will also be among the first to undertake mandatory green skills as part of their training.
"We know from past economic downturns, particularly the recession of the 1990s, that it took almost a decade for apprentice commencements to come back to normal levels after that downturn. This time round we can't wait that long. We can't afford to lose skills. We can't afford to have young people miss out on the kind of start in life that an apprenticeship brings.
"We believe that this will support up to 21,000 apprenticeships. That's important for our young people who are going to be looking for a job opportunity as they come out of school, particularly in the summer months. It's important to the nation's future, because when our economy turns to growth we want to make sure we've got the skilled people that this nation needs to build its future."
The Apprenticeship Kickstart will be funded from the Government's $650 million Jobs Fund and will be available to all employers who take on a traditional trade apprentice aged between 15 and 19 years.
The bonus will be available for apprentices who are hired between 1 December 2009 and 28 February 2010 or until 21,000 apprentices have commenced in traditional trades hardest hit by skills shortages identified on the National Skills Needs List.
These include butchers, bakers, bricklayers, carpenters, electricians, hairdressers and pastry cooks.
Ms Gillard met with a group of VU pre-apprentice carpentry students, who gave her a hands-on lesson on some of the finer points of constructing a roof. She was a big hit with them – they gave her the star treatment, including asking her to autograph their sweat-shirts and the roof truss she had helped build.