Wednesday 26 October 2011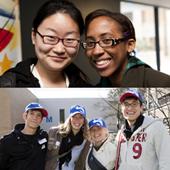 Join SMILE and make a difference. So what is SMILE? SMILE stands for Students Meet Involve Link and Engage. The group is informal and enables VU students who have similar interests to get together.
Some of the SMILE groups include cooking, exploring, photography, eating and language exchange. You can join an existing SMILE group or tell us what makes you SMILE so we can link you up with VU students with a similar interest.
SMILE provides opportunities to get to know each other while having fun. Find out more at the SMILE get together:
Time: 11am
Date: Monday 5 December, 2011
Where: Footscray Park Campus
This will be followed by lunch in Footscray for those interested in attending. You can also visit the SMILE blog for more information and register to get involved.