Dr Symons received an award from the ALSO Foundation for the Most Outstanding Contribution to GLBTIQ Sport. The award recognised her contribution as the lead author of the study Come Out To Play.
The report identified a need for community sport to acknowledge homophobia and establish programs that welcome, respect and provide a safe environment for gay, lesbian, bisexual, transgender and intersex people.
The study has been well received by sporting and community bodies including the AFL, which has begun to set in place some of its recommendations.
Accepting the award alongside joint winner community activist Rob Mitchell at a ceremony is St Kilda's National Theatre, Dr Symons acknowledged the teamwork that went in to compiling the report. She thanked her research team, including fellow VU researchers Melissa Sbaralia and Chloe McCarthy, and Professor Anne Mitchell and Associate Professor Lynne Hillier from La Trobe University.
The award was presented by former Olympic swimmer Daniel Kowalski and commissioner of the Victorian Equal Opportunity and Human Rights Commission, Dr Helen Szoke, both of whom spoke in support of the Come Out to Play study at its launch last month.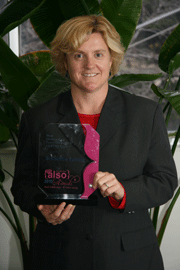 Caroline Symons with award