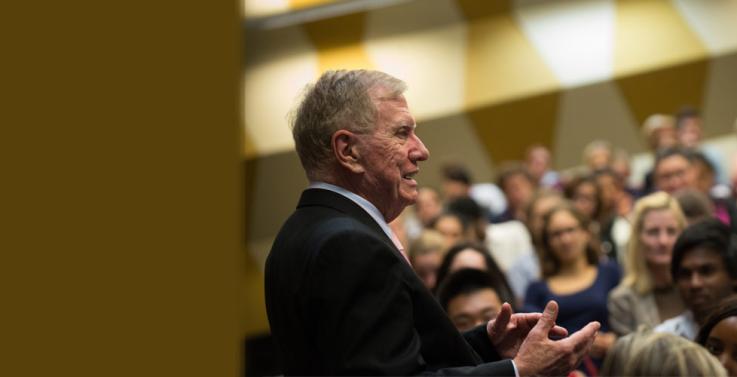 Melbourne VCE students filled a Victoria University lecture theatre last month to pose questions of one of Australia's finest legal minds - retired High Court of Australia judge, The Hon. Michael Kirby.
Kirby spoke of his life in the legal profession before answering questions from the 200 legal studies students, on topics ranging from capital punishment to whether Australia needed a Bill of Rights.
A Professorial Fellow and Adjunct Professor of VU's College of Law & Justice, Kirby was the youngest lawyer to be appointed a High Court judge (aged 57), a position he held for 13 years until 2009.
Now 75-year-old Kirby said the most important thing about his service as a judge was that he never received a phone call from a minister telling him how to decide a case.
"In many countries of our world that happens," he said. "But I never received a wink or a nod by someone who has a lot of money - no paper bags stuffed full of dollars ever came my way."
Much of the discussion centred around The Australian Constitution. "Do you stick with what it meant at the beginning of the Commonwealth in 1901 when it was written? Or take the view that the constitution is a 'living tree', in order that it can advance and develop with changing concepts and social circumstances?"
In 2013 Kirby was appointed Chair of the United Nations Commission of Inquiry into Human Right Violations in North Korea and as a Commissioner of the United Nations AIDS Commission.
He was proud to have been given the title of Adjunct Professor. "I love my association with the Victoria Law School, and I come to the Law School as often as I can."
Kirby occasionally lectures, attends conferences, meets with law students, and speaks generally about his life as a judge in the Court of Appeal, and the Federal and High Court. The Q&A session provided students with a greater understanding of law as a profession through the judicial experiences and thoughts of one of Australia's most prominent legal minds.