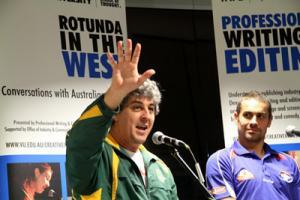 Where else could you find the convergence of a footballer discussing courage on the field, the seductive cadence of poetry read aloud and colourful conversation on the craft of sports writing but a Victoria University Rotunda in the West?
Last night's Rotunda, hosted as always by the pocket rocket of writing and writerly conversation at VU, Bruno Lettieri, and co-sponsored by VU partners the Western Bulldogs, turned the cafeteria overlooking Whitten Oval into a passion play on football and writing.
The carefully selected mix of panellists left their audience of close to 100 enraptured. Sports writer, broadcaster and online publisher John Harms was at his dazzling best dipping in to his encyclopaedic store of footy anecdotes, history and culture, tossed with some personal vignettes for which his writing is famous.
"There are so many things in football which make it so meaningful: Family, place and all these things so elemental in human identity come together,'' Harms said. "You can add the aesthetic of the game, the competition of the game and the fact that you don't just lie down in life you shake your fist at the gods; you act instead of being passive."
Poet Tom Petsinis read from his Four Quarters anthology, including his witty and gritty tribute to Bulldogs legend Tony Liberatore, Short . It reads in part:
Tenacious, a young pit-bull terrier,
He mauled the shine off opposition stars
And went for broke in bruising packs,
Passing to runners on the fringe
How many in the audience knew beforehand that this former footballer and mathematician turned poet and author is the cousin of Collingwood great Peter Daicos?
Turns out that Daicos was one of many influences on Petsinis that led him to explore the grand narratives of the code that has captured the imaginations of generations of Australians.
And then there was Bulldogs vice-captain and special comments man in footy media forums, Daniel Giansiracusa, demonstrating that the appreciation of the subtleties and sensitivities of his profession is not limited to the fans and commentators.
The midfielder, who this weekend will play his 200th game, was insightful and candid with his comments on the "statistics and structures" that dominate coaching in today's game,
"These days it's all about structures and procedures and keeping the routine or changing it next week if it doesn't work,'' Giansiracusa said. "But footballers, we are weird cats, because sometimes you feel great and you have a shocker and other times your legs are heavy and you can't move well in the warm up and you come out and have a blinder.''
But in talking about the changing game, Giansiracusa was quick to dispel any notion that modern footballers were somehow lesser players than their predecessors.
Introducing last night's forum, Lettieri said the strong links between football and writing was proving popular. Last year's Talking Footy forum featuring Age AFL writer Greg Baum drew a similarly large crowd.
Rotunda is earning a reputation for drawing readers and writers to its forums in Melbourne's west featuring well-known Australian authors. Coming up in September is kids lit giant John Marsden.
Details on the Rotunda program are available from Bruno Lettieri.