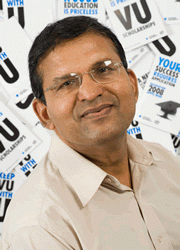 Professor Nagendra P. Shah has yet another award to add to his collection. He has won the Australian Institute of Food Science and Technology Keith Farrer Award of Merit for his contribution to the development of dairy science.
Professor Shah, who is based at the University's Werribee Campus, has an international reputation for his food technology research. His contribution to the field spans three continents, four countries and five universities.
In 2009 he won the William C. Hains Dairy Science award (administered by California Dairy research Foundation) and in 2003 the Rhodia International Dairy Science Award for the American Dairy Science Association.
He has also won a host of other honours, including the Dairy Industry Association of Australia award of merit (Loftus-Hills silver medal) in 2008, and the Vice -Chancellor's Medal for Excellence in Research (2005). In 2004 he was elected a Fellow of the Australian Institute of Food Science and Technology.
In addition to his research output, Professor Shah is known for his encouragement of students and his enthusiastic promotion and support for the study of food technology.